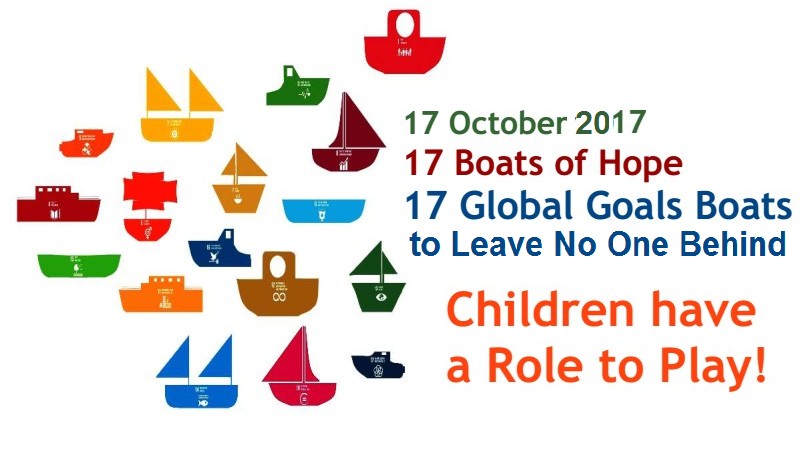 To mark the 30th Anniversary of the UN End Poverty Day and to contribute for the civil society mobilisation for the UN 2030 Agenda, the INTO Global Citizenship Schools Network and the Irish 17 October Committee invite schools around the Country to create boats of hope to be launched on the River Liffey on 17 October as the finale for national commemoration of the UN Day.
In total 17 schools could be involved to make 17  Boats, symbolising the hopes generated by 17 Global Goals.
Organisers suggests that boats should be made out of recyclable material and easy to transport (as schools delegation will have to bring it to Dublin) and of course, able to float!
Each boat will have to carry messages of hope from people who will be at the event and also from children around Ireland who will send their own messages of hopes to us.
The boats launched into the Liffey will symbolise the expression of our hopes and commitments to end poverty, fight inequality and act on climat change, the 3 main challenges of the 17 Global Goals.
If you are interested to take part with your school, download the 5 pages Activity Kit here!
Help us to promote this campaign, share the Campaign Leaflet around you, send it to the teachers you know!
Read here the press release of the "17 Global Goals Boats" Campaign launched on 17 April, exactly 6 months ahead of 17 October, at the occasion of the INTO 2017 Congress in Belfast.