The International Day for the Eradication of Poverty was first marked at a major public rally held on 17 October 1987 in Paris, where one hundred thousand people from all backgrounds responded to a call from Father Joseph Wresinski, founder of All Together in Dignity – ATD Fourth World, to gather at the Plaza of Liberties and Human Rights.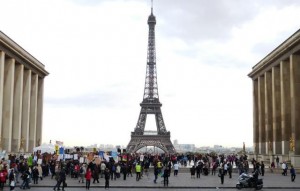 On this day, a declaration was engraved on a Commemorative Stone, proclaiming that extreme poverty is a violation of human rights and affirming the need for all people to unite to ensure that these rights are respected.
In 1992, the United Nations recognised the 17 October as the International Day for the Eradication of Poverty. Since then, governments, local authorities, members of civil society and the private sector have recognized the importance of this International Day, which has become a key rallying point for a growing number of citizens and organizations from all backgrounds, in the fight to eradicate extreme poverty.

In 2006 a UN review of the observance of the Day was carried out. Three reports have been published on the results of various components of this review, which was undertaken with NGOs, trade unions, UN Member States and specialized agencies. The reports – one of which was issued by the UN Secretary-General (A/61/308) – clearly confirm that:
The eradication of extreme poverty and the respect for human rights are intrinsically linked;
The active participation of persons living in extreme poverty lies at the heart of 17 October commemorations; their testimonies show that they are not just beneficiaries of programmes, but rather essential actors for change and defenders of human rights;
The Day is an important occasion for all those present – including the public authorities – to publicly commit themselves to eliminating extreme poverty, and to assess the progress being made towards this objective.
Since 2009, the Irish Department of Social Protection and its Public Awareness Funding promote awareness of the UN International Day for the Eradication of Poverty and support groups and organisations all around Ireland to mark the UN Day. Since 2014, this Public Awareness Fund enables also the Irish Committee to network with the various initiatives and projects at the occasion of the observance of the UN Day on 17 October. This work enables to produce each year a national programme of the UN Day events and an annual #EndPoverty Calendar.
Read the UN Secretary-General 2006 report!
Discover the latest resolution by the UN about the day (from 21 December 2016)!