17.10.18 in 17×10 pictures and a few videos!

Discover here below a visual report of most of the 2018 UN Day events in Ireland!
For more details about each event,
please look at the End Poverty Day National Programme 2018!

The Irish Committee for the UN End Poverty Day is grateful to all the stakeholders
and volunteers who made all these events possible!
For regular updates and pictures from events worldwide,
visit and like our Facebook page
and see also the www.overcomingpoverty.org international website!
From Friday 5th October to Friday 19th October
40 Make Poverty History Quotes on Custom House Quay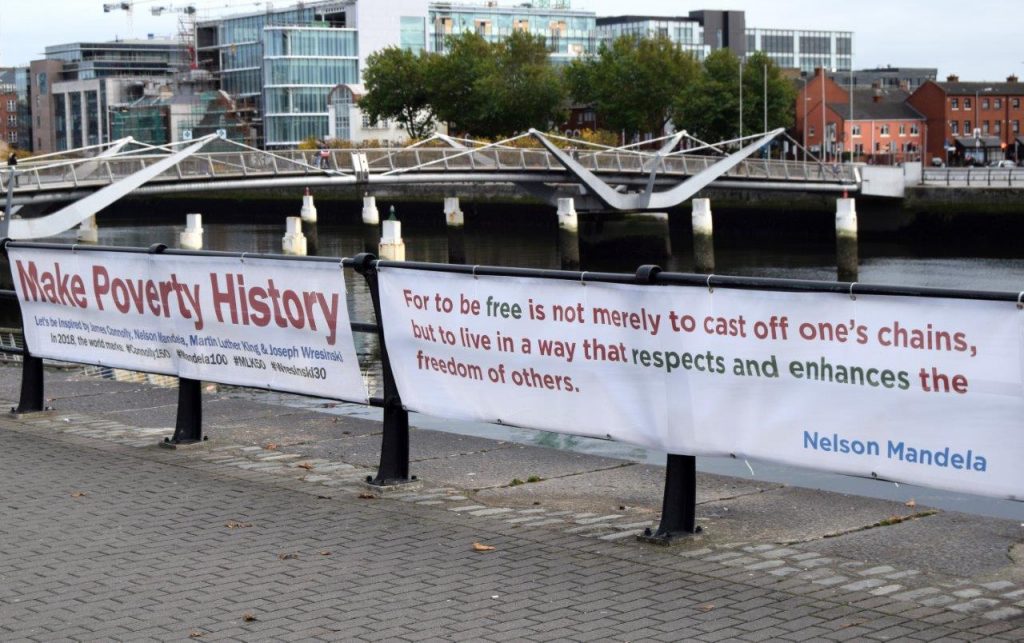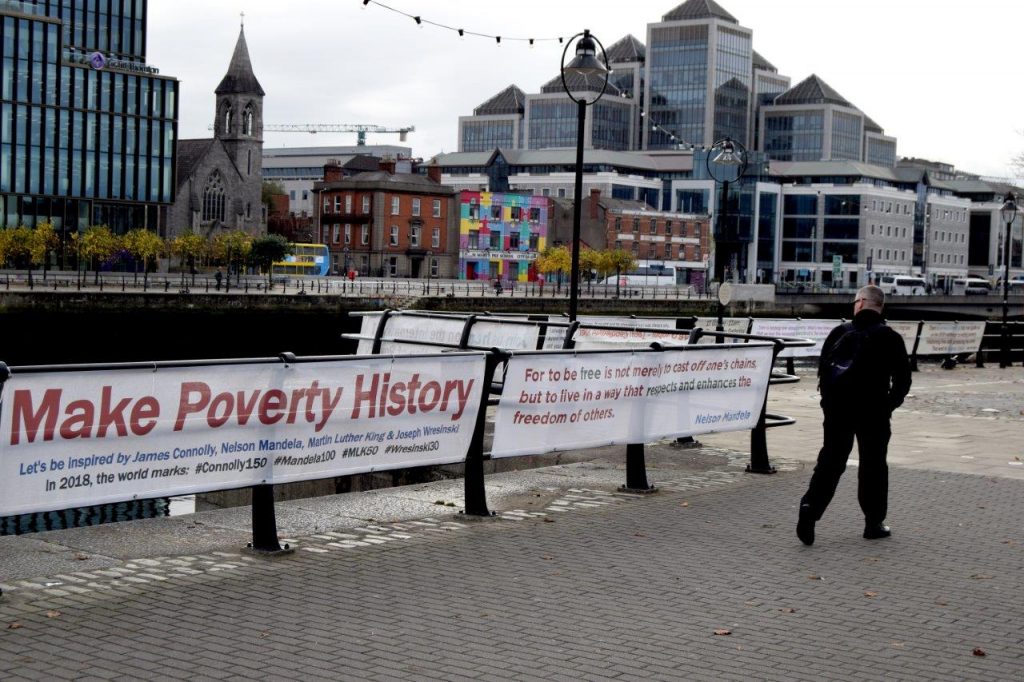 Tuesday 9th October
Opening of the "Your Rights Are Written in Stone" Exhibition
in the EPIC-CHQ Building on Custom House Quay
and presentation of the 2018 End Poverty Day T-Shirt
The Exhibition was launched by David Donoghue,
former Irish Ambassador to the United Nations in New York
and Seanie Lambe, Chair of ICON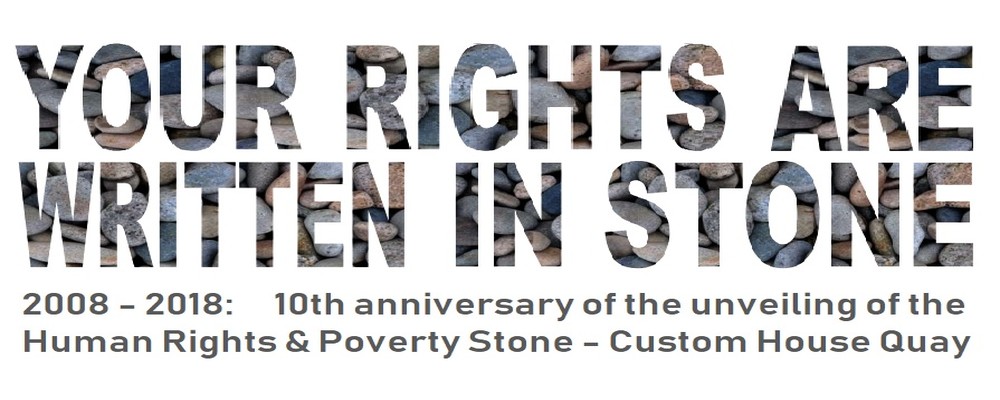 Listen to the podcast by NearFM
Tuesday 16th October
Lus Na Greine Family Resource Centre in Granard, co Longford,
marks the UN End Poverty Day
The SAOL Project – Dublin 1 marks the UN End Poverty Day
with a series of Poverty Post Cards

The Leave No One Behind Summit takes place on 16 October
marking Zero Hunger Day and End Poverty Day
Global Action Plan in Ballymun, Dublin 9
marks the UN End Poverty Day

Wednesday 17th October
Arden View Family Resource Centre – Tullamore, Co Offaly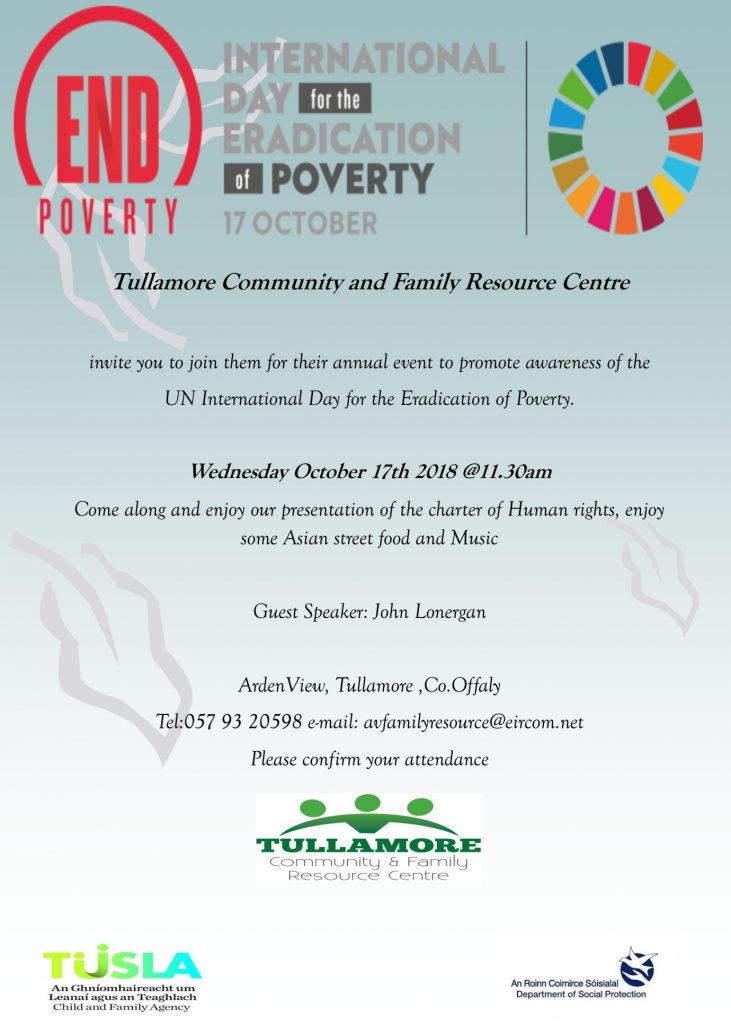 Cork Life Centre
National gathering on Custom House Quay marking
the 10 years of the unveiling of the Human Rights and Poverty Stone.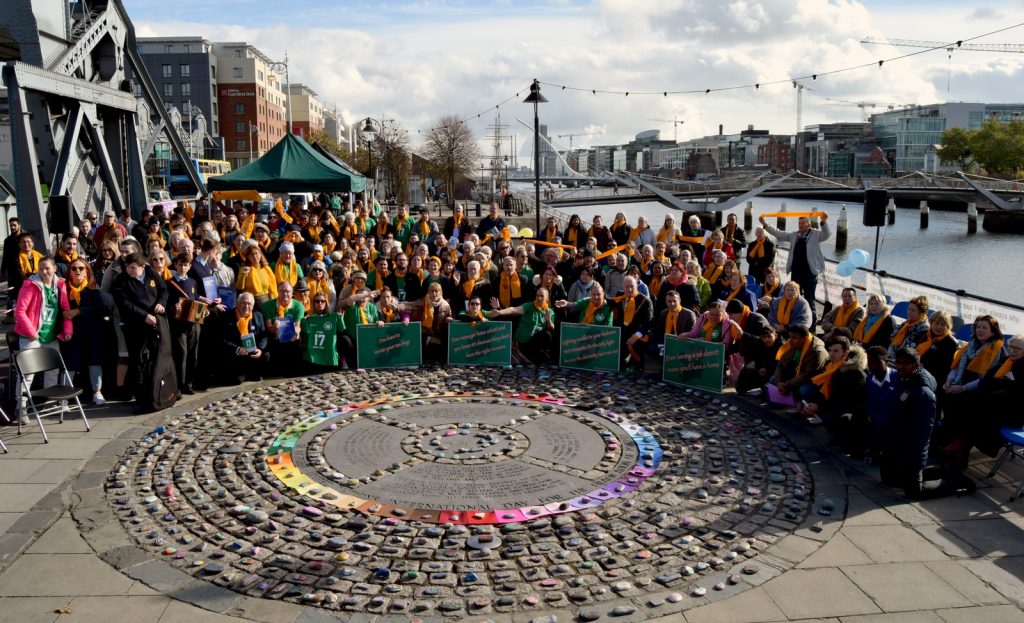 Discover also this short video from the gathering prepared by Donal Leader!
"Conscious Cruelty"
Participation and Practice of Rights (PPR) marked the UN Day in Belfast, Northern Ireland
and organised a day of debates on the theme of
"Conscious Cruelty: Social Security, the Economy and Human Rights"
Check Twitter feed @PPR_Org on 17 October 2018 for more details!
Launch of "Voices for Dignity"
Launch of the memorial book of the 10 years of the Human Rights and Poverty Stone,
at Mansion House with special guests:  Lord Mayor of Dublin, Emily Logan – Chief Commissionner of Human Rights
and Equality, Bernadette Scheid – Deputy Ambassador of Belgium and Camille O'Sullivan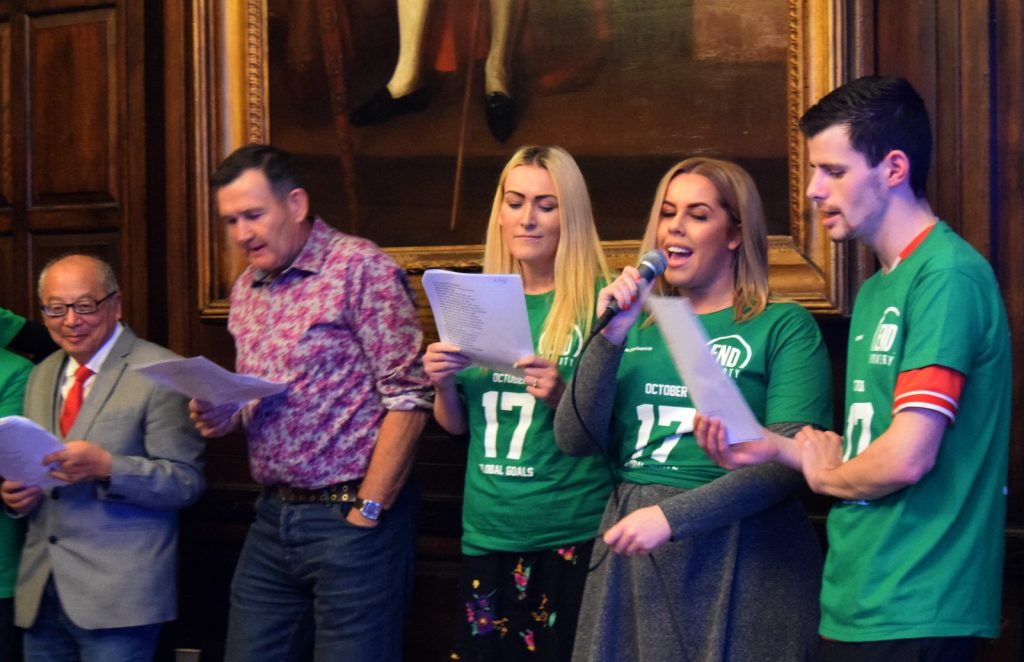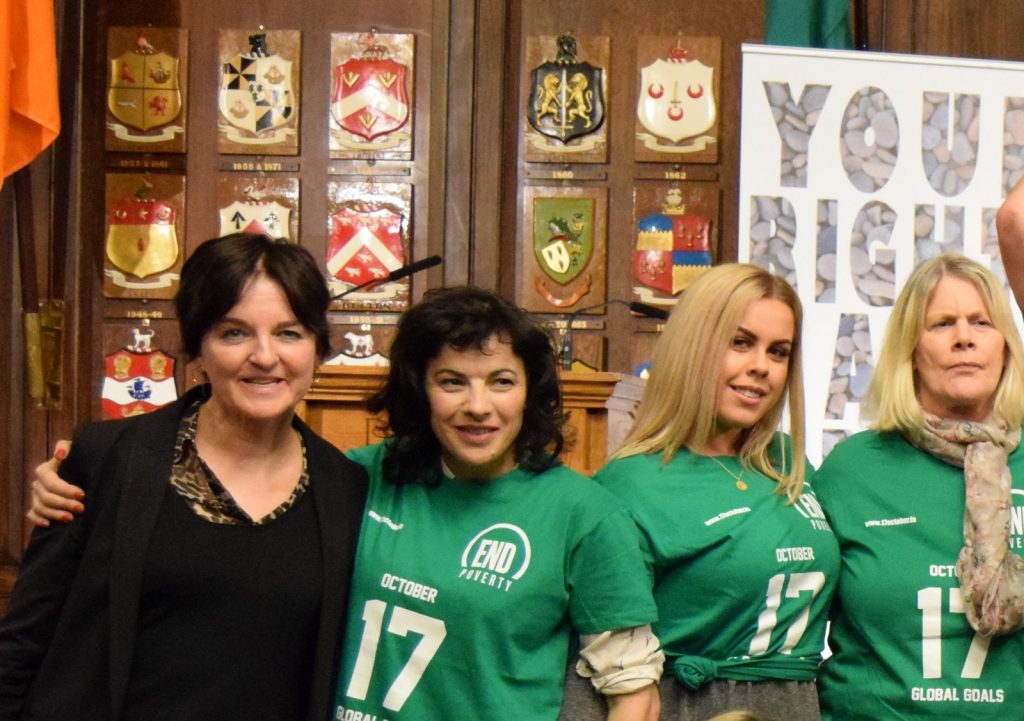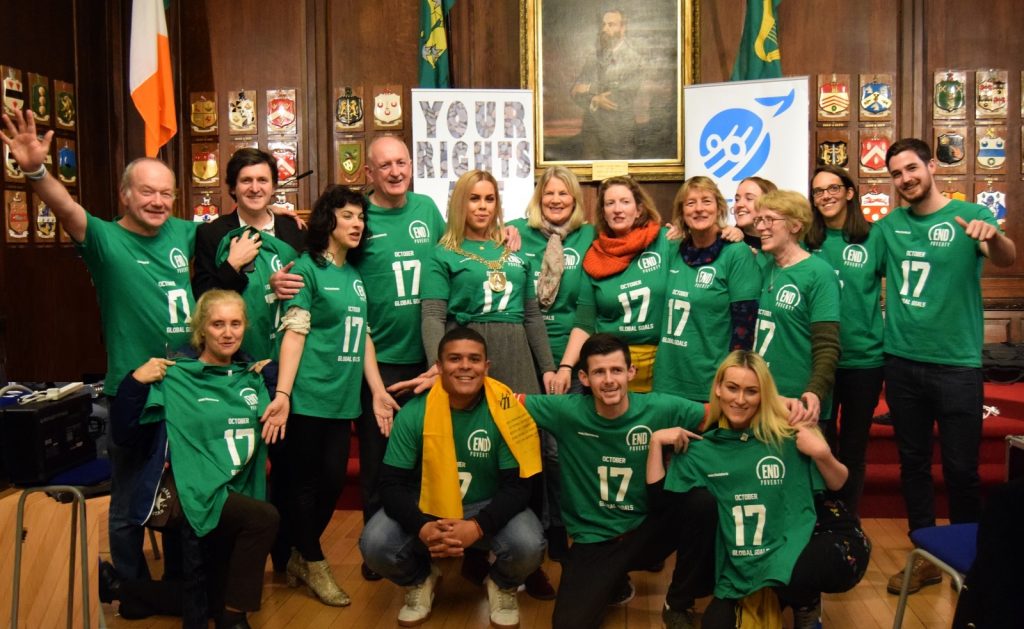 SDG Showcase

On UN End Poverty Day, Development Perspectives organised their 2018 SDG Showcase event in Drogheda.
The evening celebrated the actions of the 2018 years SDG Advocates
from communities across Ireland. Read more here!
Watch also here the video of the UN End Poverty Day ceremony in New York!
Wednesday 24th October 2018
Opening of the concrete pathway in the "End Poverty Day Hope Ochard"
in Carrick On Shannon prepared by the the Breffni Family Resource Center
following the "bench" workshop
Thursday 25th October 2018
Misean Cara Seminar marking the UN Day:
'Tackling Forced Displacement: people, poverty & rights' seminar
Thursday 1st November 2018
The Offaly Traveler Movement Youth Group
marks End Poverty Day

National #WishingStones Campaign in Primary Schools
Video 1
Video 2
Video 3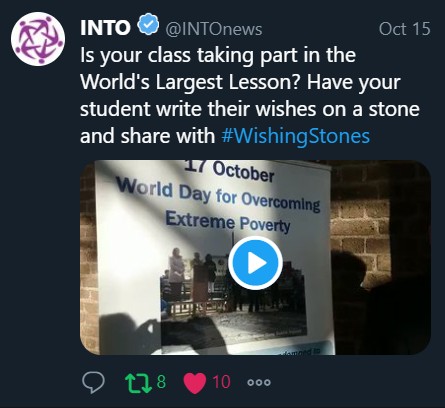 Video 4