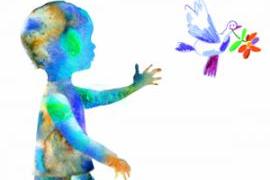 "There are no dreams in my head: other people don't like us." Anastasia says out loud what so many children think inside, all these children who are not expected to be anywhere, those who are constantly criticised for making noise, for being distracted, for not knowing their lessons, those who are never told "good job!" even when they can recite lessons by heart, those who are insulted from across the street, who clench their fists when their families are attacked or whose parents are spoken badly of, those who live in slums, who are banished from place to place, who cannot attend school regularly, those who, with their parents or alone, flee their country without knowing if they will be welcomed anywhere.

Children living in poverty are first and foremost children who, like everyone else, like to laugh, play and be with others. But in their hearts they are certain of one thing: if the world could understand their parents as they do,then people would make room for their families and life would change.

From a young age, they have realised how tough their lives are and have been trying to help in any way they can. "I want to work to help pay the rent," says Kevin, age 10. They see how their parents are struggling like the mother who earns a few coins by selling plastic bottles and who, with her family, lives in a house without a proper roof. When it rains, everything gets wet. Her biggest concern is protecting her children's school bags.

As young children, they learned to keep quiet to protect their families from suspicious looks and embarrassing questions, lest they be separated from each other. Fatimata, whose blind parents struggled to earn a living, once told us: "We often had nothing to eat. But despite everything, we went to school. Our education was fed by our parents' courage. Without them, we would never have been able to learn anything." Children can see that their parents are exhausted. They know that, alone, no one can solve that many problems: "Our parents are the ones who should be supported!" says Alma.

When implementing children's rights, shouldn't our main priority be taking seriously what holds a special place in their hearts? All children know that no one can live alone, without friends, without someone who respects them. Some take action, such as the Tapori children who live in a large city where war has been raging for years. Their mission is to be "friends of the friendless". They choose to visit others their age, former child soldiers whom everyone is afraid of. They make friends with refugee children from neighbouring countries who they know are alone or mistreated. "A child is a child," they say, "so why are some children set apart?"

Elsewhere, children are living on the streets, near markets. They have left their villages where the arid land can no longer feed everyone. While they are subjected to deprivation and violence of all kinds, they look after each other, protect the youngest, help each other, and ask us for books…When implementing children's rights, shouldn't we follow children into the world they want for the future?

In the street library, Eva is focused on drawing. She stops when she hears police sirens and looks troubled. So many parents in the neighbourhood are in prison. She goes back to concentrating on her drawing. When it is done, she bursts with joy and runs to show it to everyone, and everyone joins in with her laughter.

"I would like to be a light," says Angelo who is repeating his first year of primary school, "because light shines. It's beautiful and you can see it. I would like to be a light. That way, my head would be useful!"

When implementing children's rights, shouldn't we let every child's light shine? Children and young people are increasingly challenging us by demonstrating everywhere in the world to call for an end to the destruction of living things. They are urgently calling for action to slow down climate change so that life on earth can continue. Isn't it equally urgent that these young activists be able to connect with the children and their families who stand up to poverty in their daily lives?

What are we doing to help them? Will they be able to count on our ability to unite, to share our experiences, our energy, our know-how to make progress in respecting nature and every last human being? Some children are leading demonstrations while other children keep quiet about their dreams and everything they are undergoing. When implementing children's rights, shouldn't we be taking all children seriously? May we seek them out because we need them to create a better world for everyone