Discover below a visual report of events around Ireland marking the International UN Eradication of Poverty Day – 17 October 2021
For more information on these events you can view the Irish 17 October Committee's National 17 October 2022 Programme Booklet. The 17 October Committee is grateful to all the stakeholders and volunteers who made all of these events possible.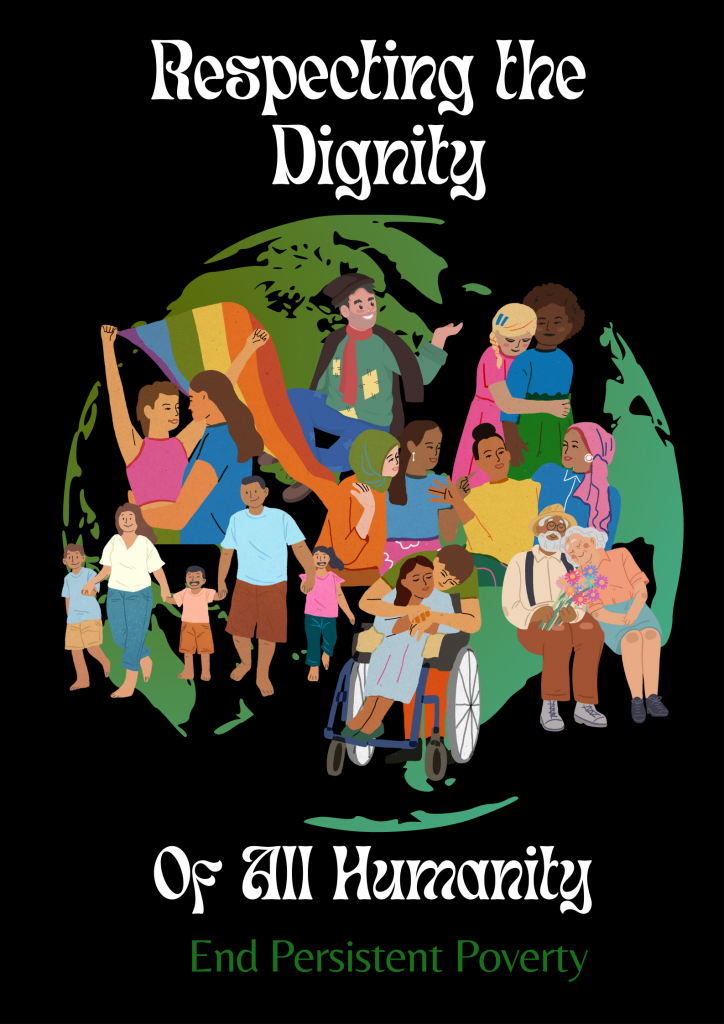 THIS YEARS THEME
The Irish theme for this year's International Day for the Eradication of Poverty chosen by the 17th October Committee is "Respecting the Dignity of all Humanity: End Persistent Poverty". This theme was inspired by condensing the International theme; "Dignity for all in Practice: the commitments we make together for social justice, peace and the planet".
Dignity is a fundamental right and constitutes the basis of all other fundamental rights. However, it is also integral to recognize that dignity is not something we give. All people have dignity within them. It is so important for us to respect the inherent dignity, intelligence, capacity and humanity of all people. Dignity and respect should be considered two sides of the same coin. In order to allow those who have been marginalized to feel respected and be aware of their own enormous potential we should work to create a world that focuses on empowering and uplifting others rather than one which stigmatizes, silences and punishes. It was necessary to include 'end persistent poverty' into the Irish theme as those who are struggling daily in extreme poverty must always remain the core focus of this day. It is those who are most often made to feel as though they are living without dignity. This year's theme also makes reference to the #addthe10th campaign as recognizing and naming socio- economic discrimination will be an important step in showing greater respect to those excluded daily because of their socio – economic status.
The image for this year's theme represents the different communities of people who often face discrimination as a daily occurrence. People are often mistreated because of living with a disability, race or ethnicity, gender, sexuality, membership of the Traveller community, family or civil status, age or as a result of socio- economic status or living in poverty. Unfortunately, this is not an exhaustive list. We, as a society, are living in an increasingly precarious world and we will continue to face global problems such as the climate crisis, energy crisis, the refugee crisis and ongoing war. Too many people right on our doorstep are faced with substandard living conditions. Too many are waiting years for urgent medical care. Too many people face constant judgement as a result of negative stereotyping. Now is the time to recognise the intersectionality of these issues and for greater solidarity and compassion for one another. Further, unless significant actions are taken too many people will be at risk at falling into an ever-deepening cycle of poverty. This morning we will hear the personal testimonies bravely shared by people who live with experiences of poverty, socio- economic discrimination and hardship. I'd like to acknowledge and commend them for sharing their experiences, their strengths, their contributions and their insights. In order to make tangible efforts to truly respect the dignity of all, actions taken must involve the full and active participation of those who are struggling. Respecting the dignity of all people no matter their social background is vital to creating a more equal, harmonious and vibrant world for all.
SIDDCA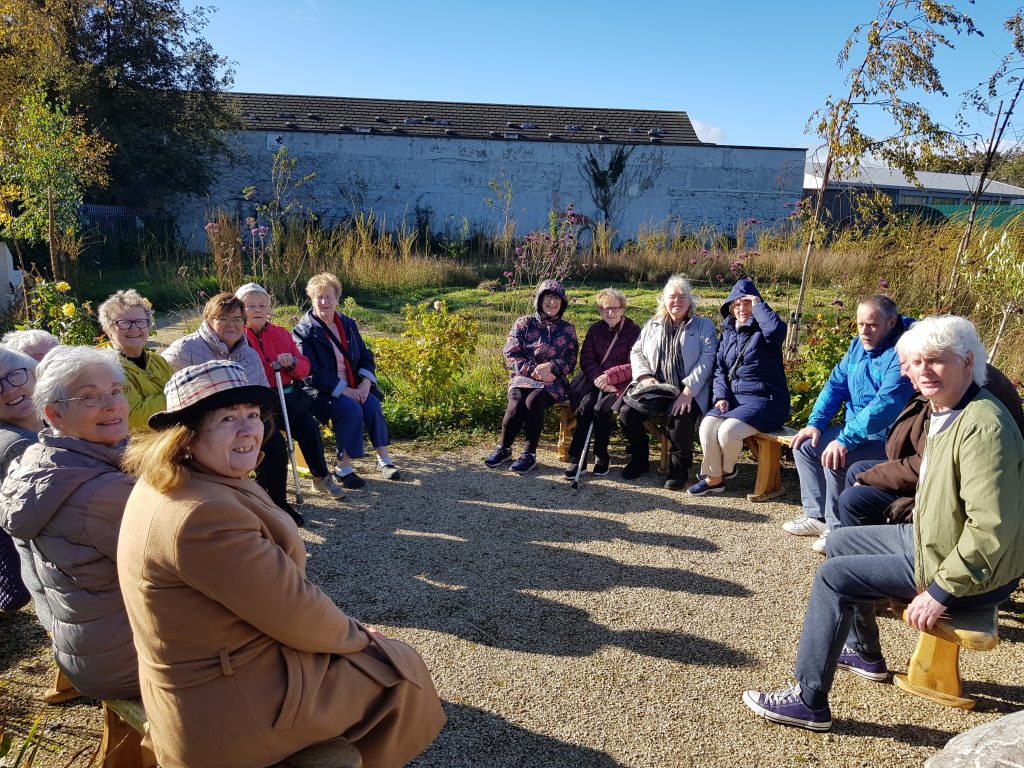 SICCDA worked with The Sanctuary on Stanhope Street to provide a facilitated half-day session of meditation and mindfulness for community members who experience poverty on October 17th. In line with the theme of respecting the dignity of all humanity, this session cultivated a sense of wellbeing, offered a space for reflection and give participants space and time to share about their experiences on their own terms. It also provided an opportunity to learn practical, accessible skills of self-care which can help manage difficult emotions. When people experience difficulty in their lives, especially persistent poverty, care of the self is often the first thing to fall by the wayside. With this session, they wanted to provide an accessible introduction to meditation and mindfulness practices which participants can incorporate into their daily lives. They also created and distributed a booklet to participants which will contain information on the UN Day for the Eradication of Poverty and how taking time for oneself and developing wellness practices feeds into the spirit of the day. There was also space for participants to journal their reflections and learnings from the session.
TULLAMORE RESOURCE CENTRE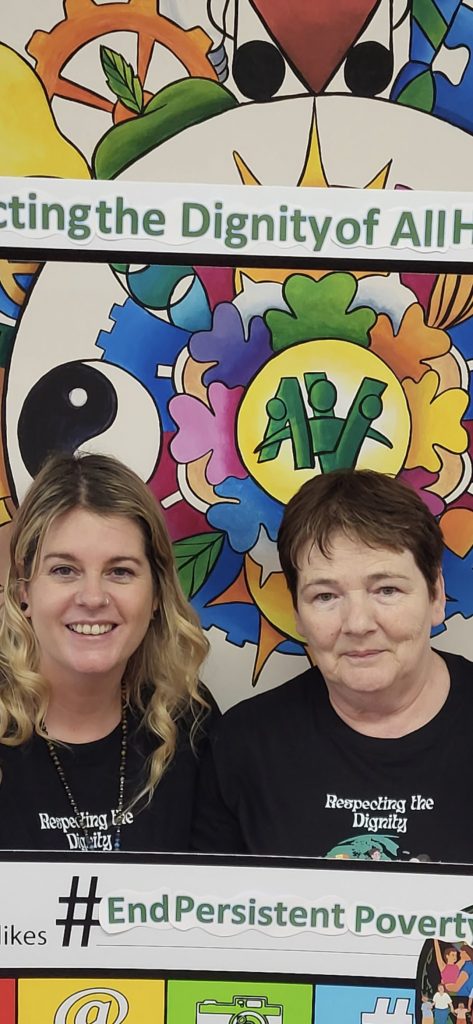 The Tullamore Community and Family Resource centre undertook a 6-week mural project. This project was designed and developed by members of the local community. This mural is an added addition to our therapeutic garden to mark the occasion on the 17thof October. The "Face of Poverty" logo flag which symbolises the various faces of poverty was displayed at a height to highlight and raise awareness. The Eradication of poverty banner was displayed outside the centre, Evergreen flowers were added to the garden to bring colour and nature all year round. A story board was created and several members of the community of all ages was asked "What does Poverty mean to you?" followed by the question "What is your Hopes for the Future". A picture board was created and added to the event where members of the community had photos taken. Refreshments and tea/coffee was available at this event.
DISABILITY FEDERATION OF IRELAND
The Disability Federation of Ireland put together a short video for the day. The video featured some of their member organisations. Participants told their story of and gave examples of the extra cost of disability, the poverty it creates, and the action needed in Ireland to address this. They want to highlight the many extra costs that come with having a disability, and the economic vulnerability and risk of poverty this creates, especially given the lack of sufficient income and supports.
KIDS OWN PUBLISHING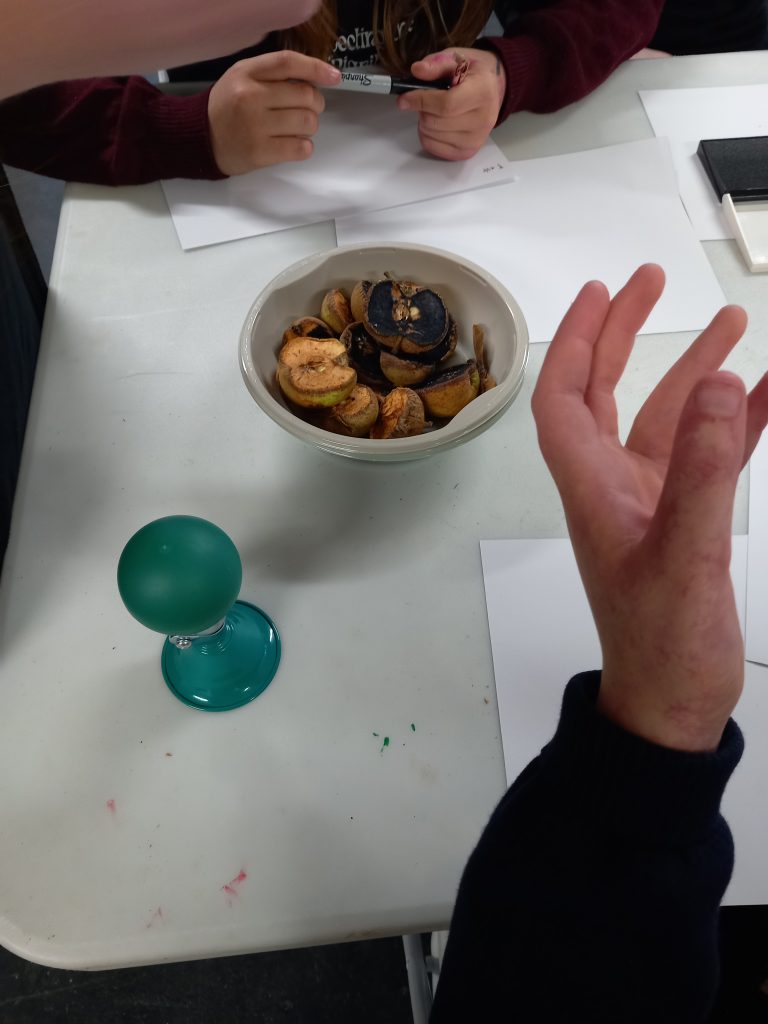 Kids' Own Publishing had a fantastic time with local young people creatively exploring the themes of poverty, dignity and respect for others. We used crab apples as stamps and blackberry juice for pigmentation, we had discussions around these being natural objects that have great value but little to no cost, they can also be free creative tools to make art! We looked at the snapdragon flower and its seeds and talked about saving seeds now to grow things after the winter ends. Keep an eye out on www.kidsown.ie for an upcoming video that highlights these workshops and themes. Thanks to Cranmore Community Co-Op for partnering with us on these workshops.
CITYWISE EDUCATION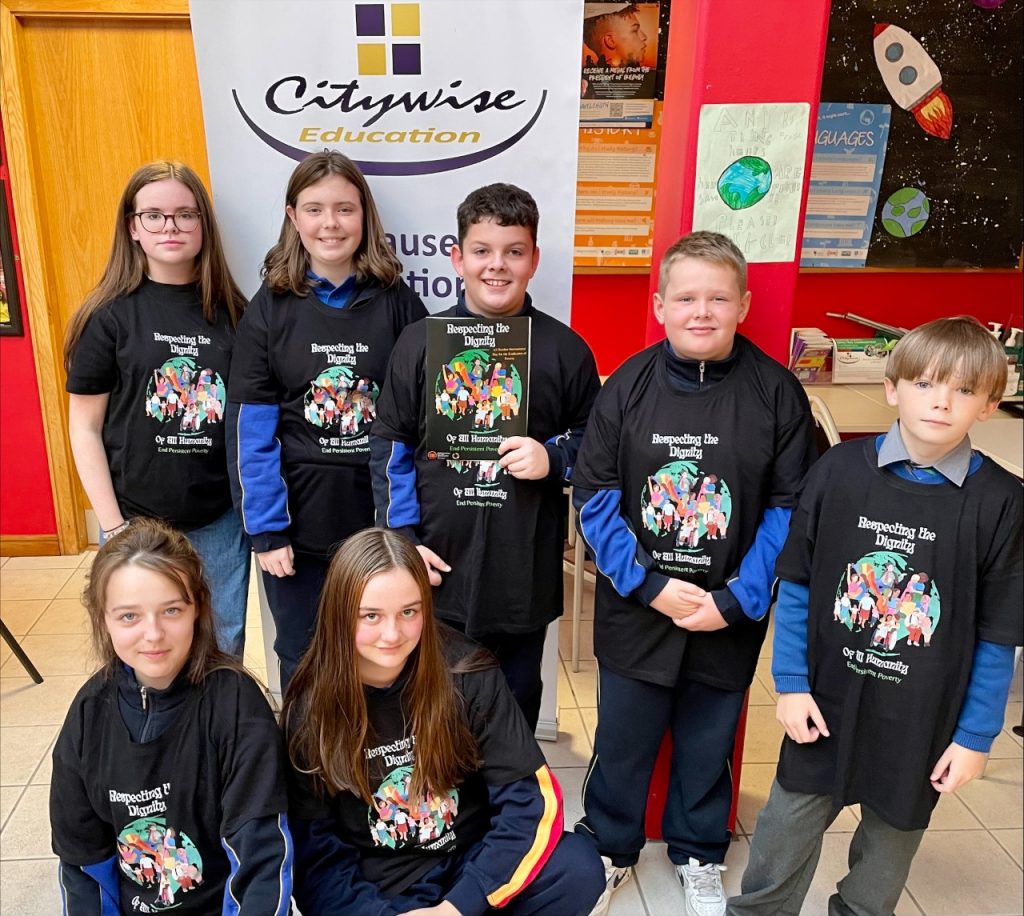 Citywise's youth steering committee facilitated a group of young people to script and perform a short video about how poverty, the cost of living crises and all the negative media around it affects them and their peers. They were asked to look beyond their own personal views to think how this will further impact other young people from different demographics.
ALL TOGETHER IN DIGNITY IRELAND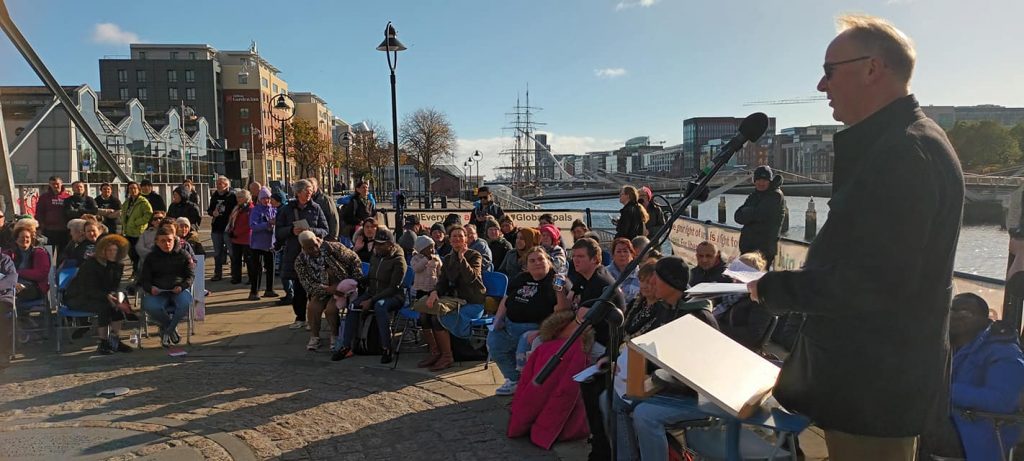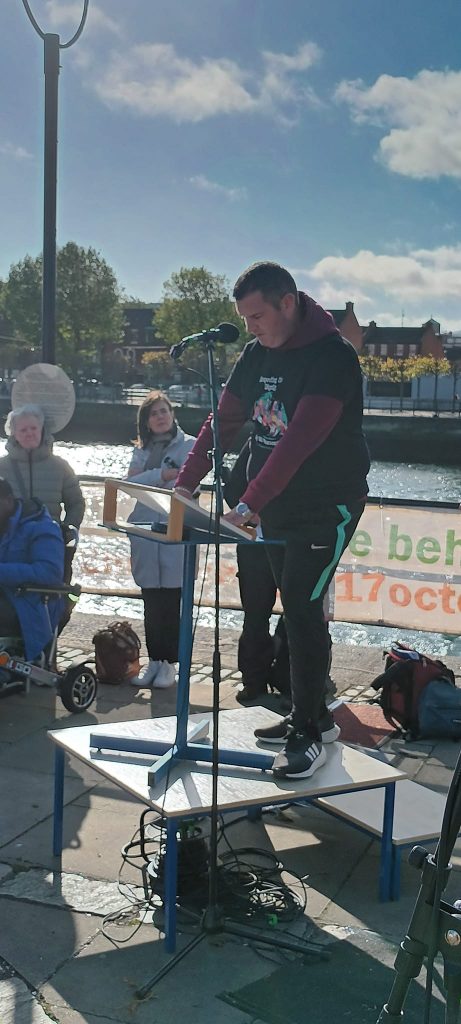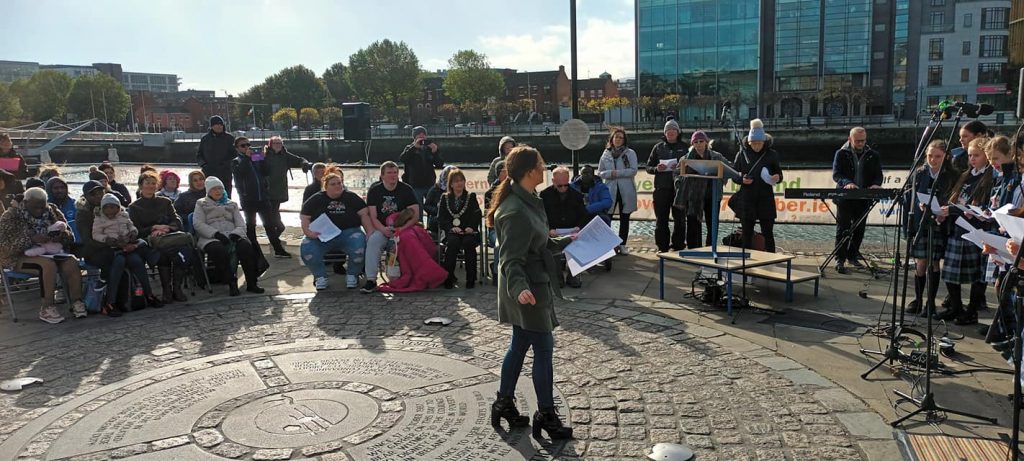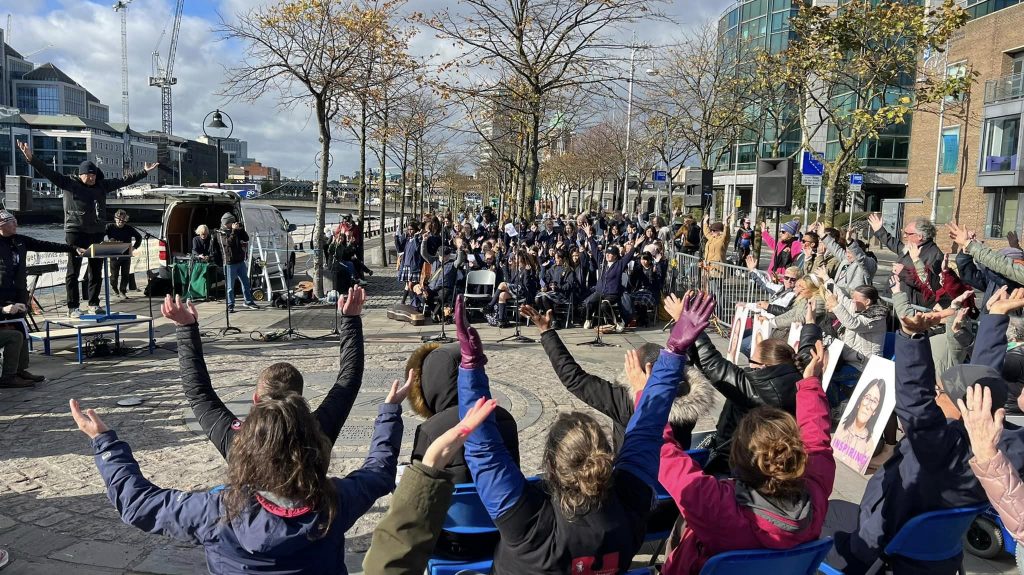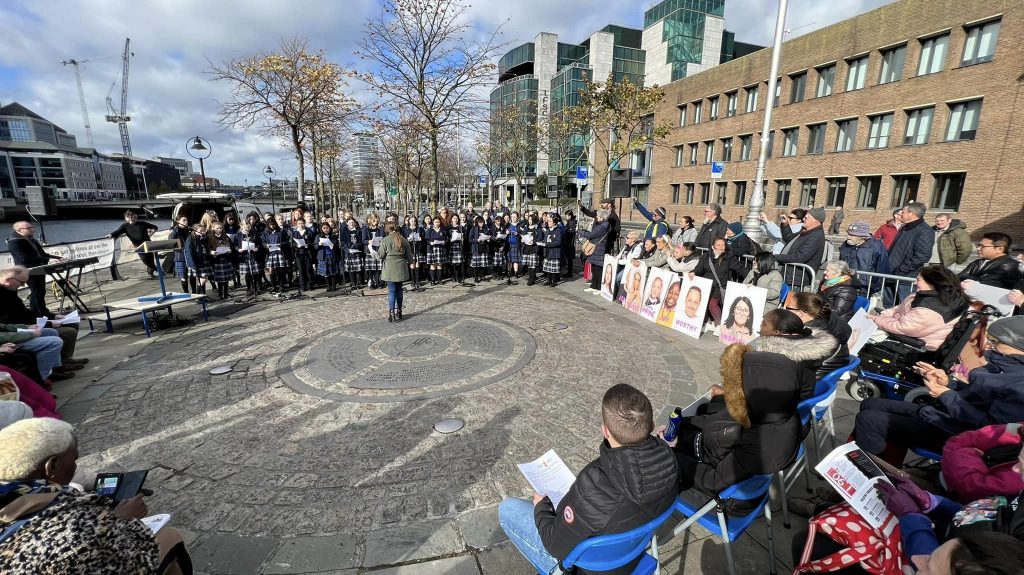 ATD Ireland, in cooperation with the Irish 17 October Committee hosted an event on Sunday the 17th of
October to mark the annual commemoration of the UN International End Poverty Day at the Human Rights and Poverty Stone, Dublin. Central to this event was 6 personal testimonies of people with lived experience of poverty. This year the audience heard about the poor housing and health outcomes faced by the Travelling community, the struggles faced by migrants living undocumented in Ireland and the poor living conditions experienced by those in direct provision. They also heard about the discrimination experienced by young care leavers, the lifelong impacts addiction can have on a person and their family as well as the value of local community services. Music from the wonderful choirs of St Mary's Secondary School Holy Faith Glasnevin, St Laurence O Toole CBS and St Laurence O Toole girls school, along with songs from SAOL and instrumentals from Cathal Holland really aided in creating an uplifting atmosphere on the day.
SAOL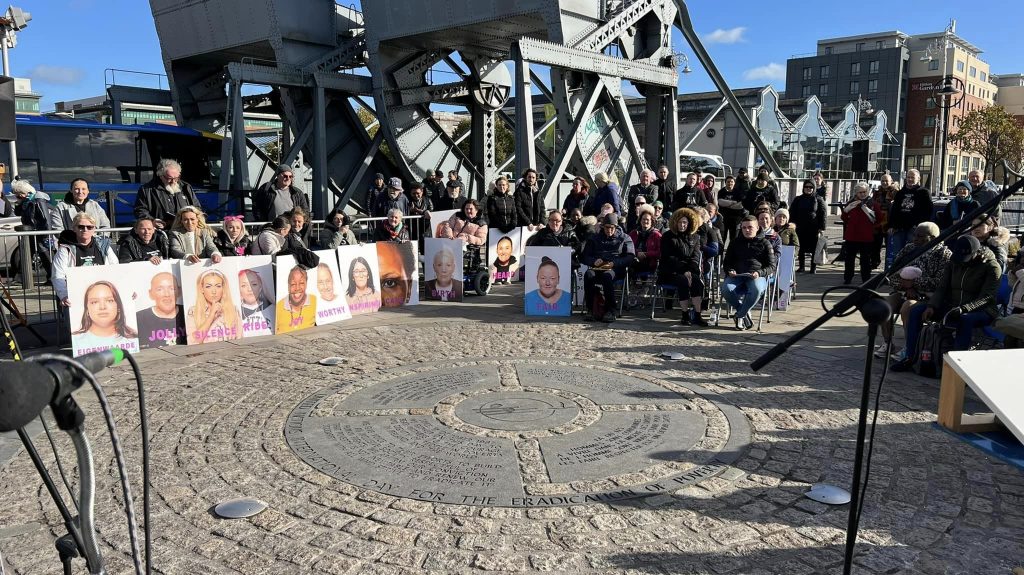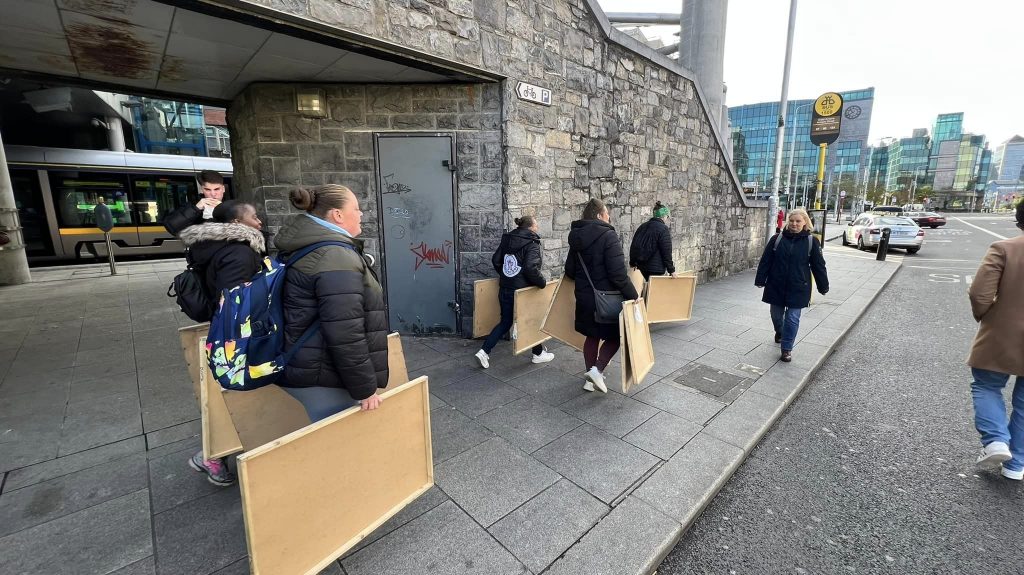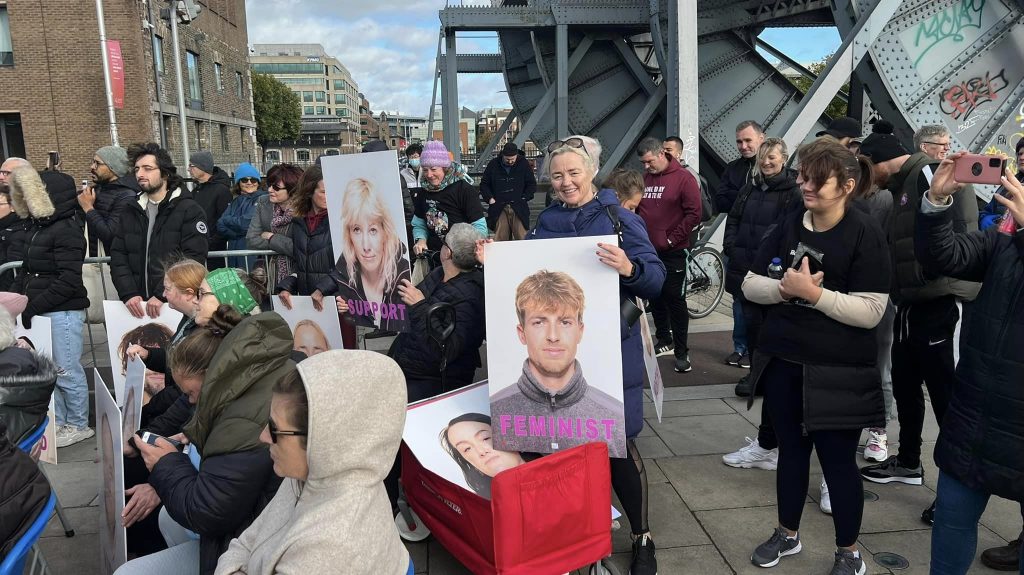 Saol Project created a 'Diginity is' exhibition of portraits of people supporting and promoting
this year's theme of 'Respecting the Dignity of all Humanity'. The key messages of this theme were reinforced by a single word chosen by the sitter to convey their message, values and beliefs included on their portrait. The aim of the work was to advocate an awareness and key messages of social justice (manifested in its different forms), challenge the humiliation, stigma and exclusion associated with living in poverty and injustice and to educate and inform the view of people outside the poverty threshold. Saol also took part and sang at the 17 october event at the poverty stone where their portraits were on display for the pubic to see.
BARNARDOS
Barnardos brought together a group of parents they work with in order to capture their lived experience via video. They are calling on the Government to target additional measures at low income families, including the introduction of a hardship fund, to ensure children don't go without items essential to their social, emotional and physical wellbeing and development.
BLANCHARDSTOWN CENTRE FOR INDEPENDENT LIVING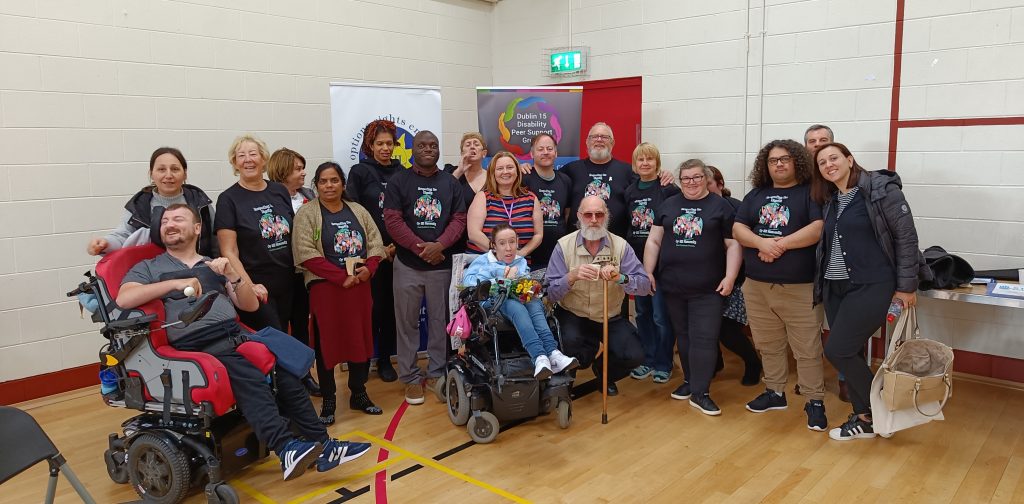 Blanchardstown Center for Independent Living hosted an open event in the Mulhuddart Community Centre on the 17th October. The Mayor of Fingal opened this event and there were a number of speakers from the Saint Vincent De Paul and MABS. Members of BCIL spoke about the cost of Disability and the day-to-day reality people face and about how the average annual extra cost of living with a disability is between €8,700 and €12,300.
Doras Buí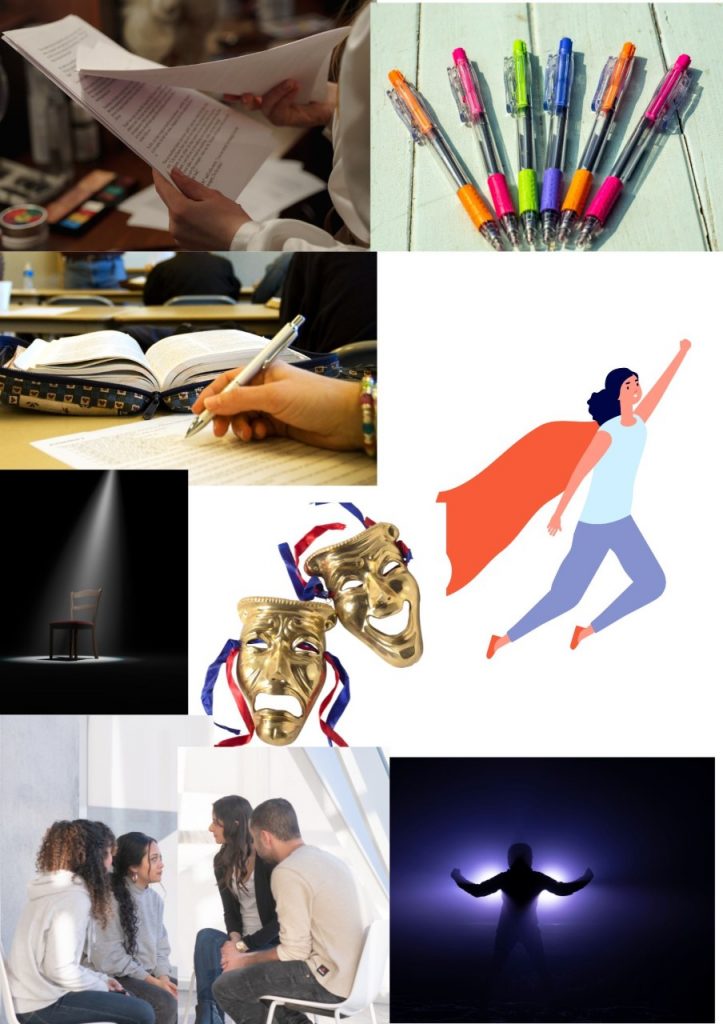 Doras Buí is working with a group of participants, looking at global aspects of poverty while working with a group at a local level. To use the 'forum theatre techniques/ theatre of the oppressed' – this is engaging with your audience in a differently way than is traditional. The audience become active in the performance. They are working through reflective practice to see how the audience engage with the piece. They are hosting their event on the 14th of November, at the end of the 6 week project.