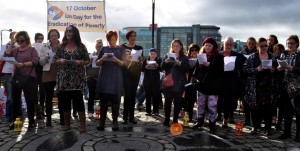 The Friends of 17 October Network is a means for everyone to get involved in the fight against poverty.
Friends and supporters help us in many ways fromorganising of the annual commemoration in Dublin, fundraising, promotion of the UN Day in Ireland, to special events, secretariat work of Committee and a whole lot more.
Whether you like to work alone or in a group, in an office or outdoors,  we can always use the help and we are flexible according to your available time and skills.
It is also a great way to meet new and interesting people!
For more information, phone 01-8558191 or 089 440 15 23 or email committee@october17.ie