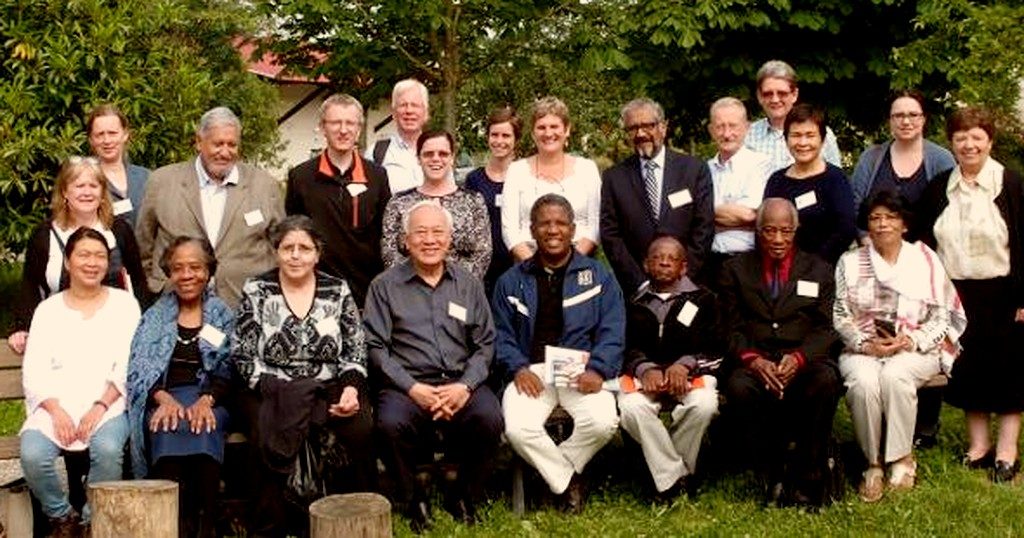 The International Committee for October 17th was launched on October 17th, 2008. This Committee will gather in Rome from 14 to 17 May 2018 in Rome for its Biennial Working Meeting!

In 2014, the Committee met in Dublin (See reports of this meeting here and here too! )
Belinda Nugent from Dublin 1 will represent Ireland and the Irish End Poverty Day Committee at this meeting.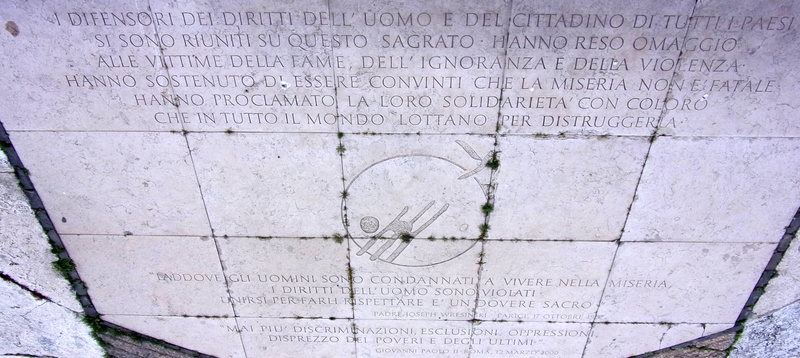 The 17 October Human Rights and Poverty Stone in Rome in front of the Saint John Lateran Church.
The goals of the International Committee for October 17th are:
To promote the International Day for the Eradication of Poverty, which publicly unites all those who are striving together to end poverty and those who want to join them, whether at global, national or local levels.
To promote the observance of this International Day in ways that respect the original spirit and meaning of the day, first marked on October 17, 1987, as described by the words of Fr. Joseph Wresinski: "Wherever men and women are condemned to live in extreme poverty, human rights are violated. To come together to ensure that these rights be respected is our solemn duty."
To promote and safeguard spaces where people from very different backgrounds can be together in a unique way, to struggle against extreme poverty and violations of human rights, and to strive towards peace for all.
Every year, the International Committee undertakes a process of consultation to determine a suitable theme to guide the commemoration of the International Day around the world. The International Committee issues an official Message, each year, to mark the annual observance of the International Day.
In 1992, with resolution 47/196, the General Assembly of the United Nations recognized October 17th, World Day to Overcome Extreme Poverty as the International Day for the Eradication of Poverty. In 2006, the General Assembly welcomed the UN Secretary-General's Report A/61/308 on the Observance of the International Day. The report says that people living in poverty are the first defenders of human rights and are agents of change. It identifies lessons learned and ways to promote the mobilization of all stakeholders in the fight against poverty. The report emphasizes the importance of a human rights-based approach and the true participation of people living in extreme poverty. It also calls for the active participation of people living in extreme poverty.
The composition of this committee is unique, with members coming from different backgrounds, including people with first-hand experience of extreme poverty, all committed together against poverty and exclusion:
President:
Mr. Donald Lee (Australia) Former senior economist with the United Nations
Members:
Mr. Maximiliano Araujo Araujo (Guatemala), Writer, lawyer and human rights defender
Mr. Roberto Bissio (Uruguay), Social Watch, Third World Institute.
Ms. Huguette Bossot-Redegeld (France) International Movement ATD Fourth World
Ms. Kazuko Ito (Japan), lawyer , general secretary of   Human Rights Now
Ms. Nina Lim-Yuson (Philippines) CEO and President/CEO of the Museo Pambata; Former president, International Movement ATD Fourth World
Ms. Tricia McConalogue (Great-Britain), Director, Bridging the Gap Association
Ms. Belinda Nugent (Ireland) Aftercare Worker
Mr. Titinga Pacéré, Esq.(Burkina Faso) Lawyer, writer and poet
Ms. Isabelle Pypaert-Perrin (Belgium) Director General, International Movement ATD Fourth World
Mr. Jacques Petidor (Haiti) Educator, Ministry of Education, Haiti
Mr. Benoît Reboul-Salze (France), International Movement ATD Fourth World
Fr. Mario Serrano (Dominican Republic) National Director for Jesuit Social Ministries in the Dominican Republic
Ms Jean Stallings (United States of America) ATD Fourth World
Ms. Jyoti Tuladhar (Nepal), International Consultant on gender and human rights
Ms Aye Aye Win (Myanmar) Co-founder and former co-director of Dignity International
New members, starting in May 2018
Honorary Members:
H.E. Mr. Javier Pérez de Cuéllar (Peru) 5th Secretary-General of the United Nations
H.E. Mr. Cassam Uteem (Republic of Mauritius) President, International Movement ATD Fourth World; Former President, Mauritius (1992-2002)
Former members
• M. Jean-Paul Baget (France), musician and pedagogue;
• Ms. Djamila Bouguessa (France), ATD Fourth World;
• M. Eugen Brand (Suisse), former general delegate of International Movement ATD Fourth World;
• Mr. Antoine Corgier (France), ATD Fourth World;
• M. Abdou Diouf (Sénégal), former President of Senegal and former General Secretary of Francophonie (2008-2012);
• S.E. Miguel Angel Estrella (Argentine), pianist, Ambassador of Argentina to UNESCO;
• S.E. Jean-Marc de La Sablière (France), former Ambassador of France;
• Professor Adam Seligman (Etats-Unis), Boston University;
• H.E. Mr. José Ramos-Horta (Timor-Leste), former President, Timor-Leste (2007–2012), Nobel Peace Prize Laureate, 1996;
• Ms. Simone Veil (France) former president of the European Parliament ;
o – o – o