October 17 is the International Day for the Eradication of Poverty. This year's theme is Moving from humiliation and exclusion to participation: Ending poverty in all its forms. This is not only the United Nations' Global Goal #1, but it's also one of the World Bank's two main goals.
Working to end poverty can be an everyday practice. And we have dedicated our work to helping nations invest in both people and infrastructure to achieve this goal. To support our mission to end poverty by 2030, we launched the #ItsPossible social media campaign to inspire hope that it is indeed possible to end extreme poverty – if we all work together.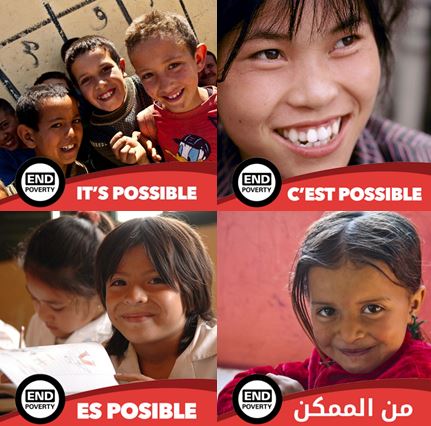 Ahead of October 17th — End Poverty Day — here's what you can do to show your support.  If you have a Facebook account, change your profile picture to show your friends that you support the goal to end poverty.
There are a few ways to add our End Poverty branded frame to your Facebook profile picture:
From Facebook's Frame home page
Click on the menu right of your profile picture
From the drop down menu under Causes, select World Bank (for English).
Set the expiration date for the frame. e.g. one week, etc.
Click "Use as profile picture" to save
On desktop:
Click on the post from World Bank from your internet browser
Below the image, click "Try it"
Use your current profile photo, or click "Change picture" to select a photo from your Facebook photo albums
Click "Use as Profile Picture" to save
On mobile:
Click on the post from World Bank from your mobile device
Below the image, click "Try it"
Use your built-in camera to take a new photo, or choose an existing photo from your phone
Set an expiration date for the temporary profile photo,
Write a message telling your friends that you believe it's possible to end poverty by 2030
 Tap "Use" in the upper right hand corner to save
Note: If you're unable to add a frame to your profile picture from the Facebook mobile app, make sure you're using the latest app version.
Thank you for showing your support for the goal to end extreme poverty. #ItsPossible!