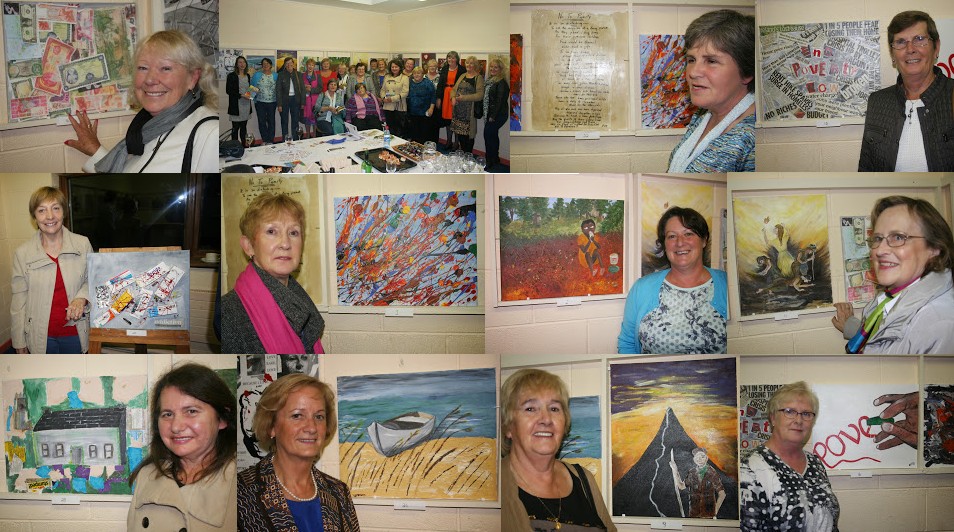 There was a buzz around Kirby O'Sullvan Business Park – formerly The Old Convent in Bruff on the evening of Thursday 16th as the launch of the 'LIVES' exhibition to mark UN Day for the Eradication of Poverty 17th October took place.  Despite a wet and windy evening attendance was to capacity as people gathered to view the thought provoking artwork produced under the wonderful guidance of artist Maureen Barry Fitzgerald.
The 'Lives' exhibition highlights the reality of lived poverty in Ireland today, and the various ways it can affect people in terms of their dignity, social exclusion and isolation.  It emphasises that poverty is not just a financial issue, but is something real experienced in our own communities.  The art works also remind us that poverty exists throughout the world and that the issues and impacts of poverty experienced are comparable, such as isolation, social exclusion, health, hunger, housing and deprivation.
Through working together and continuing to raise awareness we hope that this exhibition will support the fight to eradicate both local and global poverty through small and large actions.  Key to our message is an emphasis on human dignity, and the importance of individual's and government's commitment to fundamental human rights.
Conor O'Donoghue – representing the charity Bothar drew upon some of the images in the exhibition to express many of the issues faced in Africa and developing countries and the importance of keeping in mind the urgency of need in all countries, even while we are experiencing deprivation at home.
Imelda O'Riordan of the Hospital FRC group who took part in the project spoke of the challenges to the group in putting their ideas of poverty in images, and the hope that their work could spark debate and change.  Anne O'Connor of the Croom FRC group asked for support and coming together to say 'No to Poverty', locally and globally.
Mary McGrath, Coordinator with Hospital FRC thanked the Department of Social Protection for funding the project, and in particular all the participants who put so much work into creating such striking art pieces.  The exhibition is on show in Kirby O'Sullivan Business Park until 3rd November when it is then planned to tour Family Resource Centres in the region.
For further information contact Mary McGrath in Hospital FRC 061383884 or Sinead O'Mahoney in Croom FRC 061602878