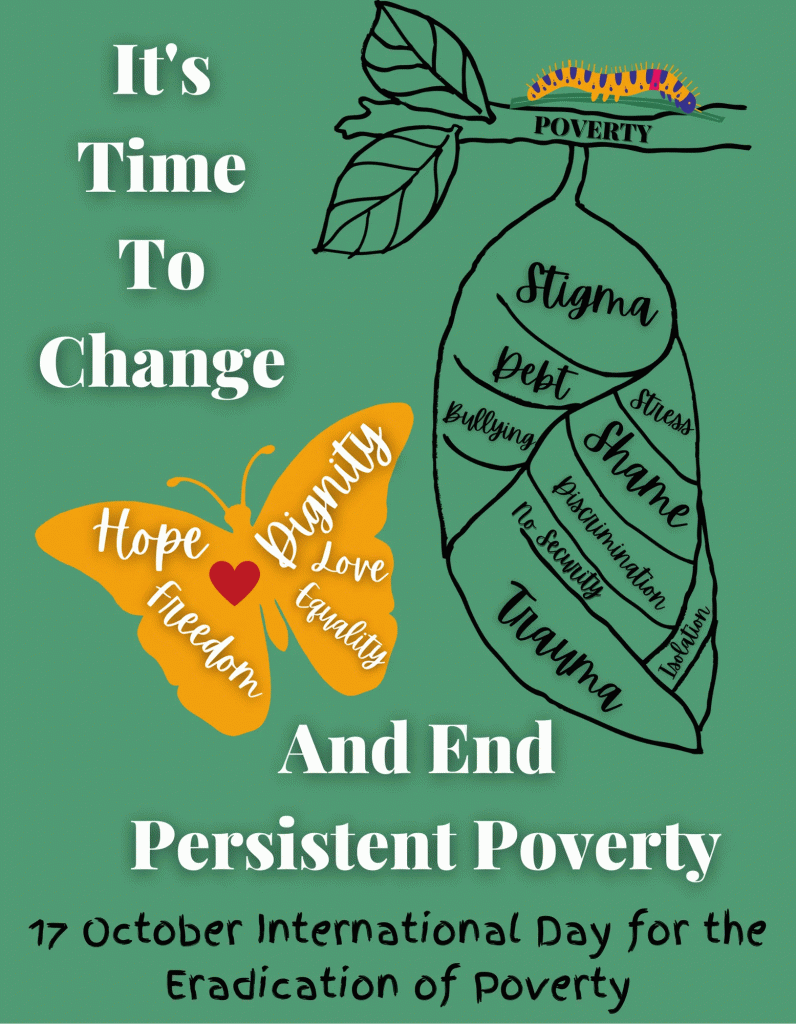 "If nothing ever changed there would be no such thing as butterflies"
The concept for the Irish 17 October 2021 theme "It's Time to Change and End Persistent Poverty" was inspired by condensing the International theme "Building Forward Together: Ending Persistent Poverty, Respecting all People and our Planet" and focusing on it's core message – which we took as being – the radical need for 'change', now so more than ever. We believe that at the heart of the planet are it's people and so in order to create a better, more sustainable future for all – we must call to end persistent poverty on a national and international level, immediately. The pandemic may be looked upon as an extreme warning sign by nature of a failing system that can no longer be ignored. It was clear that during this troubling period, people suffering from poverty all over the world, continued to be left furthest behind. It was also clear that it gave others an insight into the intense feeling of isolation that those in poverty were already familiar with and in doing so, hopefully a new-found empathy towards this hardship. We need to re-examine how we interact with our Earth as well as with each-other. For far too long the planet and so many of it's inhabitants were not being respected or looked out for by those in power. Now, as we reintegrate into society post – pandemic — we are being given an opportunity to rise and change the unequal world we were living in before. The concept of the butterfly emerging from it's cocoon stemmed from the idea of us emerging from the prison like confines of the lockdown better and more hopeful then we were before. The cocoon represents the trap of being caught within the cycle of poverty and the words engraved into it e.g. discrimination, stigma, trauma, debt etc. represent the harsh barriers forced upon those with no choice but to be stuck, living within it. The butterfly on the other hand – represents the transformative opportunity that exists in creating a fairer, greener, more beautiful world. The words engraved on it e.g. hope, dignity, equality, freedom – represent the life that we all deserve – including those living in poverty. Just when the caterpillar thought the world was ending – they turned into a butterfly. The world has changed, so let us change with it. We must learn from this time and begin to evolve, by creating something positive and colourful from the darkness. The time to renew, revolutionise and reconstruct a better future is now.
Together – It's Time to Change and End Persistent Poverty.