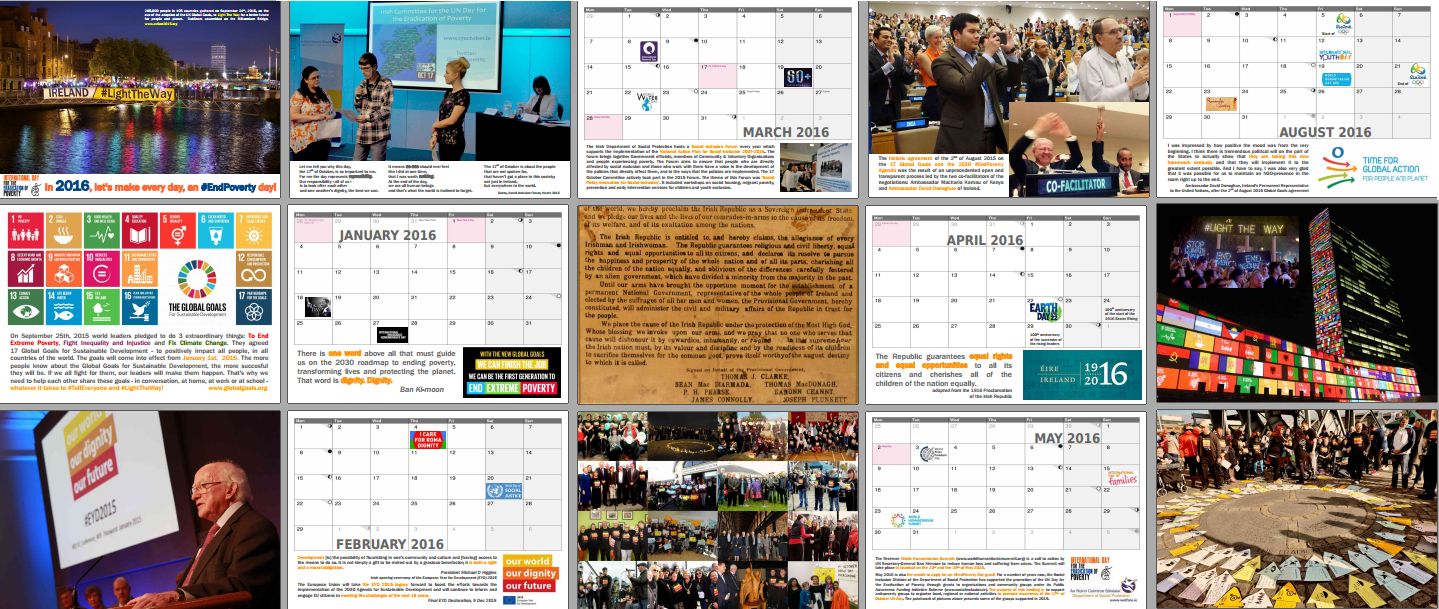 On 20th December 2015, International Human Solidarity Day, the Irish 17 October Committee launched its 2016 #EndPoverty Calendar.
In 2015, a number of high level summits formulated new approaches and new goals to #EndPoverty, protect the planet and limit the #ClimateChange. These events provided all of us with an opportunity to reshape our priorities, and to re-think our place in the world. In 2016, let's start the work, to get the job done by 2030! Let's make every day, an #EndPoverty day!
Here, you can now download a pdf version of this calendar!
This calendar has been prepared by the Irish Committee and refers to three major events of 2015: the European Year for Development, the adoption of the 17 UN Global Goals for Sustainable Development and the annual UN #EndPoverty Day observed throughout the country. This calendar is also the Committee's chance to thank all the stakeholders who supported or sponsored its work.
The Calendar announces many events of the year 2016, among others, the 2016 biennial meeting of the International Committee for October 17. More information on the work of this International Committee are available at www.overcomingpoverty.org.
A limited number of copies of this calendar have been printed. The printing of this calendar has been funded by the Department of Social Protection's '2015 Public Awareness Initiative' which promotes the observance of the United Nations' International Day for the Eradication of Poverty.
If you are interested to get a paper copy, contact us: committee@17october.ie