On the 17th of October each year, we come together to demonstrate the strong bonds of solidarity between people living in poverty and people from all walks of life, and our commitment to work together to overcome extreme poverty and abuse of human rights through our individual and shared commitments and action. The International Day for the Eradication of Poverty intends to promote dialogue and understanding between people living in poverty and their communities, and society at large. All around the world, people from different backgrounds come together to participate in the movement towards ending poverty, the first goal of the UN Global Goals. The International 17 October Committee in discussions with the United Nations in New York has chosen as the global theme for this year's UN End Poverty day "Dignity for all in Practice: the commitments we make together for social justice, peace and the planet".
"End Socio – Economic Discrimination in Ireland"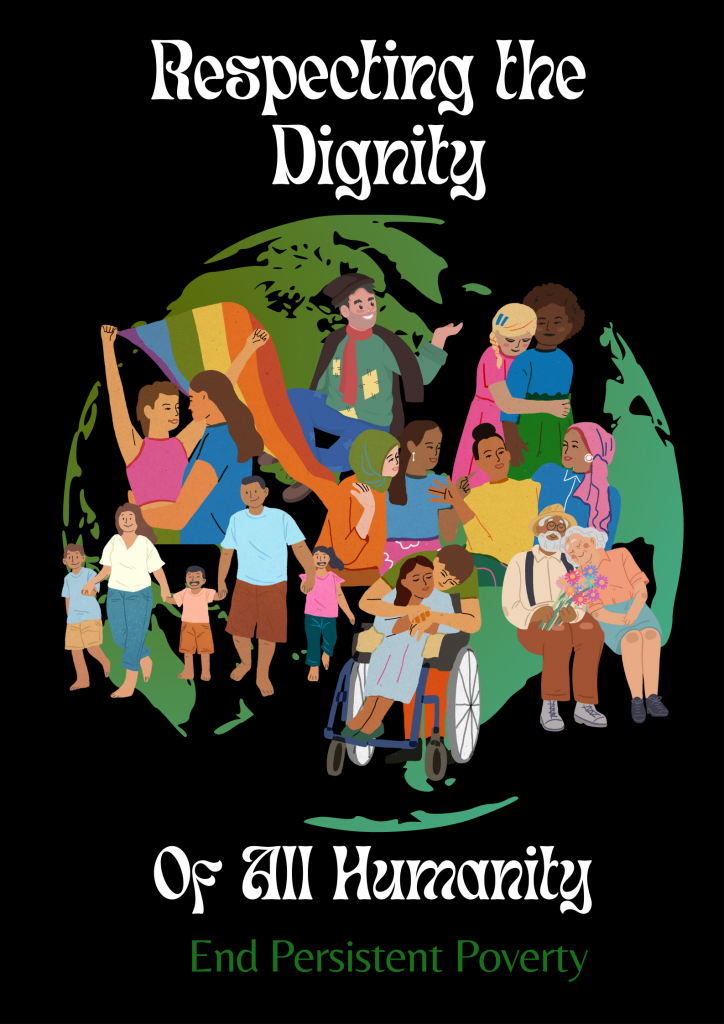 The Irish theme for this year's International Day for the Eradication of Poverty is "Respecting the Dignity of all Humanity: End Persistent Poverty". This theme was inspired by condensing the International theme. The International 17 October committee state how dignity is a fundamental right and constitutes the basis of all other fundamental rights. However, it is also integral to recognize that dignity is not something we give. All people have dignity within them. It is so important for us to respect the dignity, intelligence, capacity and humanity of all people. Dignity and respect should be considered two sides of the same coin. In order to allow those who have been marginalized to feel respected and be aware of their own enormous potential we should work to create a world that focuses on empowering and uplifting others rather than one which stigmatizes, silences and punishes. We felt it was necessary to include 'end persistent poverty' into the Irish theme as those who are struggling daily in extreme poverty must always remain the core focus of this day. It is those who are most often made to feel as though they are living without dignity. We are making reference to the #addthe10th campaign in this year's theme as recognizing and naming socio- economic discrimination will be an important step in showing greater respect to those excluded daily because of their socio- economic status. Respecting the dignity of all people no matter their social background is vital to creating a more equal, harmonious and vibrant world for all.